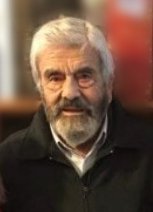 Raymond Dargham
28/12/1935 – 23/04/2023
At University Hospital – Geelong.
Loved Husband of Guitta
Father of Charbel & Elie
Jeddou to Andre' & Evie
Raymond will be loved and remembered by his extended family and many friends.
Rest In Peace
Funeral Prayers
Service Date: Wednesday - 3rd May, 2023
Service Time: 11.00am
Service Address:

St. Mary of the Angels Basilica
136 Yarra Street, Geelong
To honour Raymond, who was on dialysis for many years, you may consider a memorial donation to | Kidney Health Australia.
At the conclusion of Prayers the funeral will proceed to the Eastern Cemetery (McKillop Street – Gate 1) for burial.
Refreshments will then be served at St. Mary's Hibernian Hall from 2.00pm.
Service Location: View Map